Flavored salts and sugars are all the rage, but I started making my own 'house seasoning' out of sheer frustration a while back.
If you're like me, you have a cupboard full of infrequently-used spices. The likes of caraway seeds, pumpkin spice, juniper berries, etc. were taking up valuable real estate in the cabinet and it annoyed me when I had to fish around searching for the ones I wanted. So, one day I decided to make my own blend. You know, like the expensive ones you see in the market and say "I could make that". Well, I did!
My Favorite – The FOODalogue House Seasoning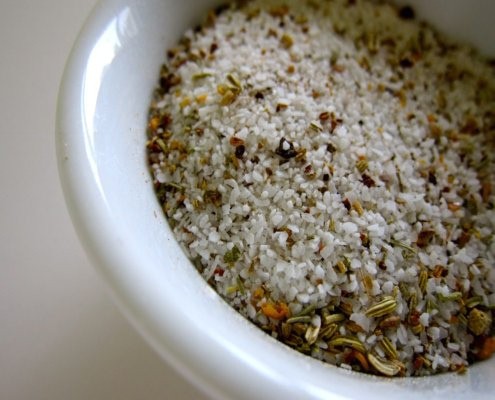 Recipe
In this blend, I ground 1 teaspoon each of my preferrred spices: fennel seed, star anise, red pepper flakes, and oregano in my favorite kitchen item, the Magic Bullet, and then mixed it thoroughly with 1 cup of coarse salt.
And that, folks, is the basic recipe: blend 1 cup of coarse salt (or sugar) and teaspoons/tablespoons of ground spices of your choice.
A Variation
Mexican: salt, chipolte, cumin, oregano, chile
Why not sugars too?
Ground vanilla bean, star anise and turbinado sugar
Clearly, the combinations are endless. Here's a few more ideas:
Porcini Salt
coarse salt, black pepper and ground dried porcini mushrooms
Sun-dried Tomato Salt
coarse salt, sun-dried tomato, red chili flakes, oregano
Cocoa Sugar
turbinado sugar, cocoa, ground vanilla bean
Expresso Sugar
turbinado sugar, coffee granules, ground vanilla bean, star anise (for that Sambuca flavor)
Note: I keep the blends in metal containers on my counter and rarely go into the cabinet these days. Now all I have to do is grab a pinch of one my perfect blends. Kitchen efficiency? culinary smarts? or the height of laziness?
What would you mix to make your favorite spice blend? I'm curious.
[A version of this article also appeared in Honest Cooking.]
NOTE: Some recipes found on FOODalogue are offered without ingredient quantities. They're meant as a guide to food pairings and techniques to be experimented with … in your own kitchen … to your own spice and taste levels … to your preferred portion sizes … and to however many people you're cooking for. A perfect meal has multiple levels of flavor and textures, bright colors and tastes, and healthy(ish) choices. It's all about enjoyment. Enjoy the process, the presentation and the just rewards...eating!